BigID Has Earned Advanced Partner Status with Amazon Web Services Partner Network!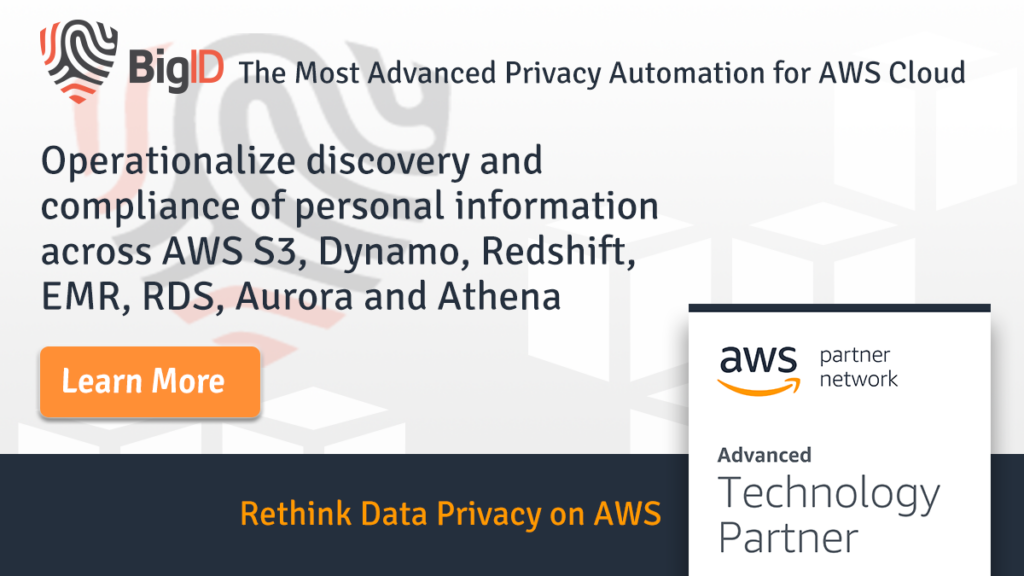 It's that time of year again, when one of the largest cloud events in the industry, AWS re:Invent, takes over the Las Vegas strip. As thousands flock to the city of sin to hear about the next big thing in cloud, we thought it would be the perfect time to share that BigID has earned Advanced Partner status with Amazon Web Services (AWS) Partner Network (APN). With BigID, AWS customers are able to automatically perform discovery across the data estate at scale, index and inventory personal information by identity, and operationalize privacy compliance mandates, such as the EU's General Data Protection Regulation (GDPR) and California Consumer Privacy Act (CCPA).
Why is this important? For starters, many organizations struggle in terms of what they should be doing with personal data and information to ensure they meet requirements in this new age of regulation. This is where privacy intelligence and BigID come into the picture: without a clear understanding of what and whose data enterprises are dealing with, they cannot sustainably address compliance or digital privacy ethics.
At BigID, we enable organizations to safeguard personal data, reduce breach risk and comply with today's global data privacy regulations. We use machine learning and privacy intelligence to discover where personal data resides and who it belongs to, across data stores. Our platform is the first product to apply identity intelligence and smart correlation to personal data discovery and classification, providing companies the content and context they need to make decisions on how to manage and protect data.
We are thrilled to achieve APN Advanced Partner status, as it makes it easier for us to provide organizations a global view of their data across the data center, SaaS, and AWS environments, including AWS S3, Dynamo, Redshift, EMR, RDS, Aurora, and Athena. As an Advanced Partner with Amazon Web Services Partner Network, BigID is becoming an integral component of the privacy stack and helping organizations better build, manage and secure their big data implementations.
Will we see you this week at AWS re:Invent? If so, keep an eye out for us on the show floor to learn more about our Advanced Partner status with AWS Partner Network, or visit our page on the AWS marketplace here.