Tableau + BigID
Identify High-Value and Sensitive Data in Tableau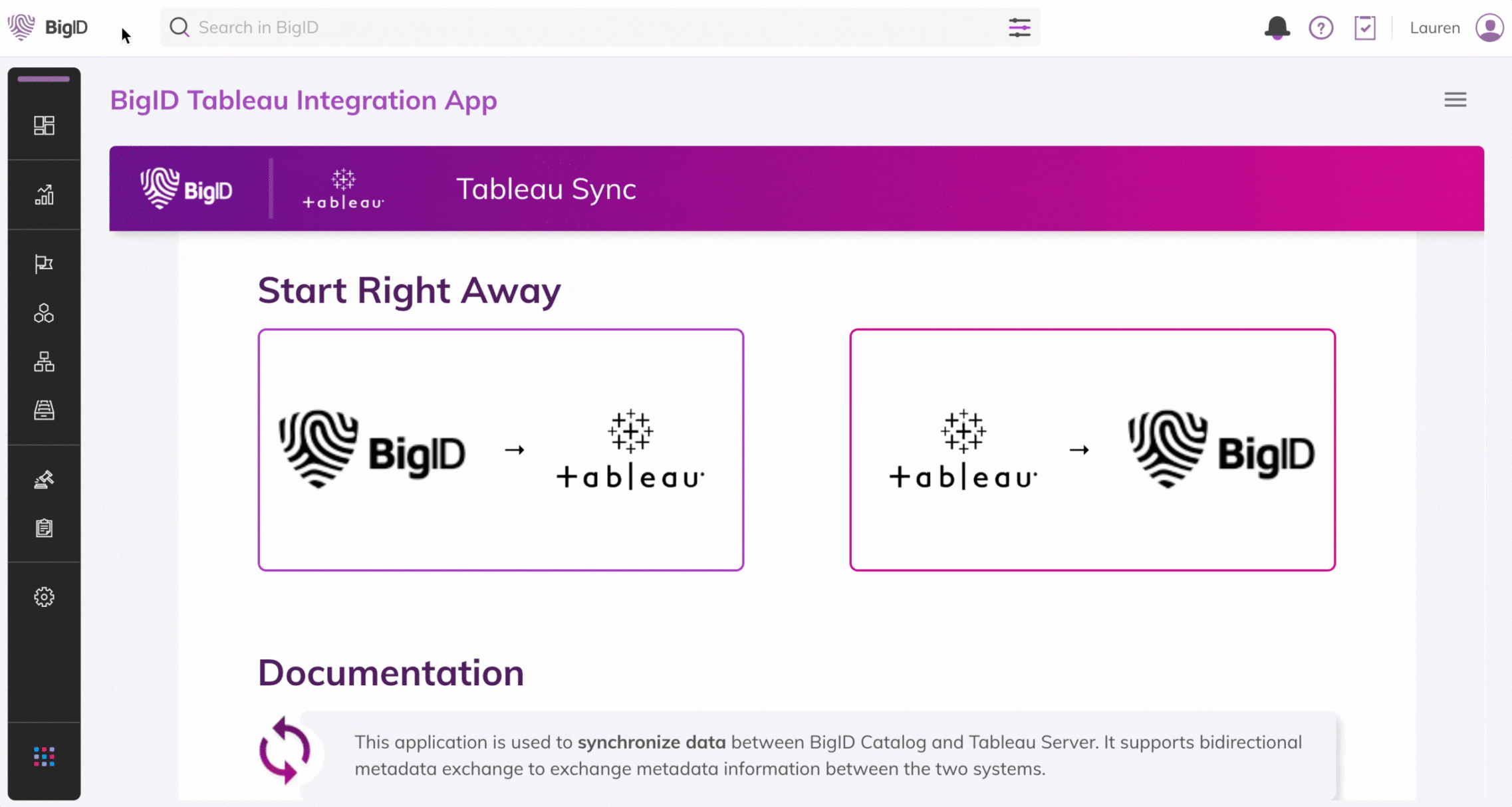 See it in Action
Benefits of Tableau + BigID
Gain Deep Data Knowledge

Harness the power of ML and automation for deep data insights and relationships across your enterprise data and all types of data – structured and unstructured, on-prem and in the cloud — all in a unified interface.

Add Context to Data Understanding

Select data you can trust with additional context that layers technical, business, and operational metadata. BigID's metadata exchange enhances metadata catalogs, adding unique insight from classification, correlation, and cluster analysis.

Find the Best Datasets

Quickly identify and inject the highest quality data into your analysis and models to make better decisions. With relevant data quality scores and tailored ML-based recommendations, monitor your data's consistency, accuracy, completeness, and validity across all your datasets.

Manage Data Risk

Get deep insight for data management at scale and proactively notify and protect your high-value data. Get warnings and notifications of sensitive information, discover ungoverned assets, and identify open access to vulnerable data.
Metadata Exchange
Enhance Tableau Server metadata with BigID's discovery-in-depth insights to quickly identify high-value data. Automate data quality and profiling to select the most relevant datasets effectively for any analysis. Proactively manage risk of sensitive data inside Tableau based on security and privacy regulations and business rules.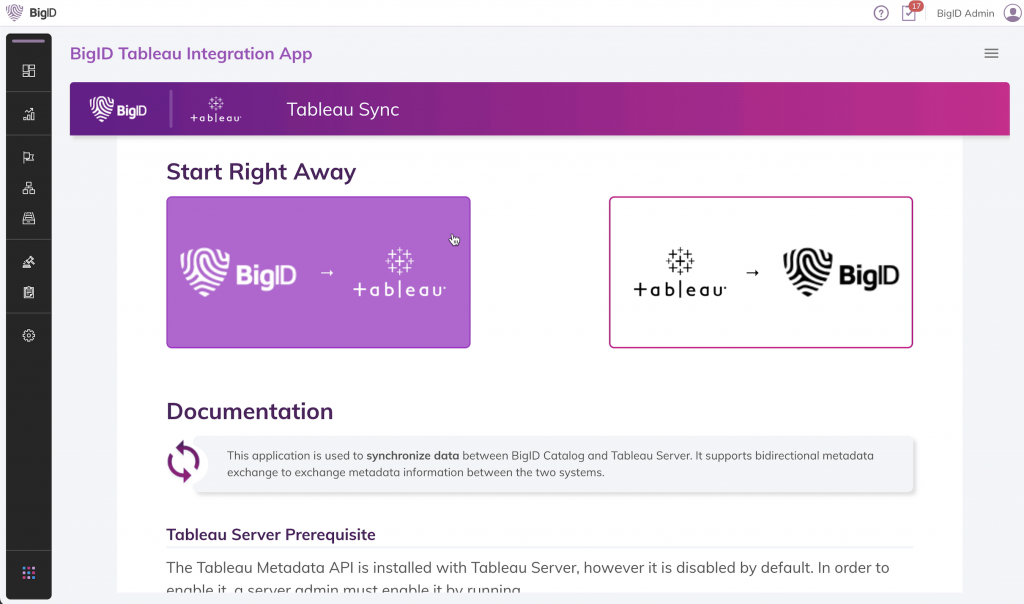 Out-of-the-box Tableau Dashboards
Select from a variety of OOTB Tableau dashboards to get the most relevant summary for your unique privacy, security, and governance challenges. Connect directly to BigID and find instant answers with visual analytics of your sensitive, high-value, critical, and regulated data. Target specialized reporting for different stakeholders and remix BigID's findings with data from other sources for deeper data intelligence.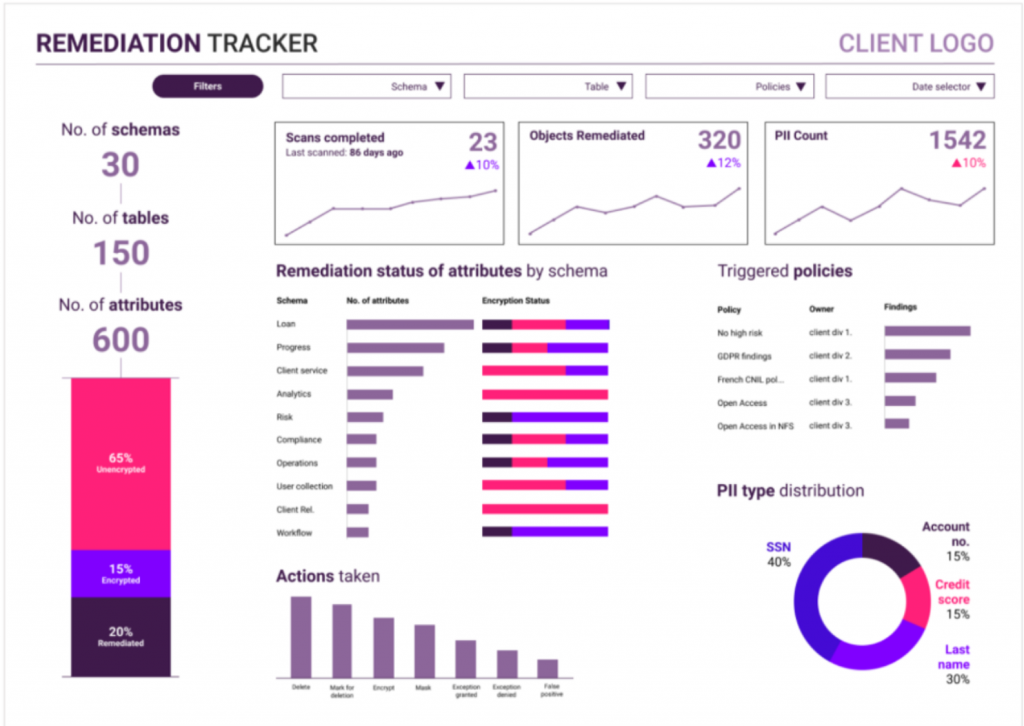 Tableau Connector
Use the Tableau connector to get visibility of all your sensitive data residing in Tableau. Quickly and easily connect to Tableau to start automated scanning, continue populating your BigID data catalog, and get a single data catalog for all your data, everywhere.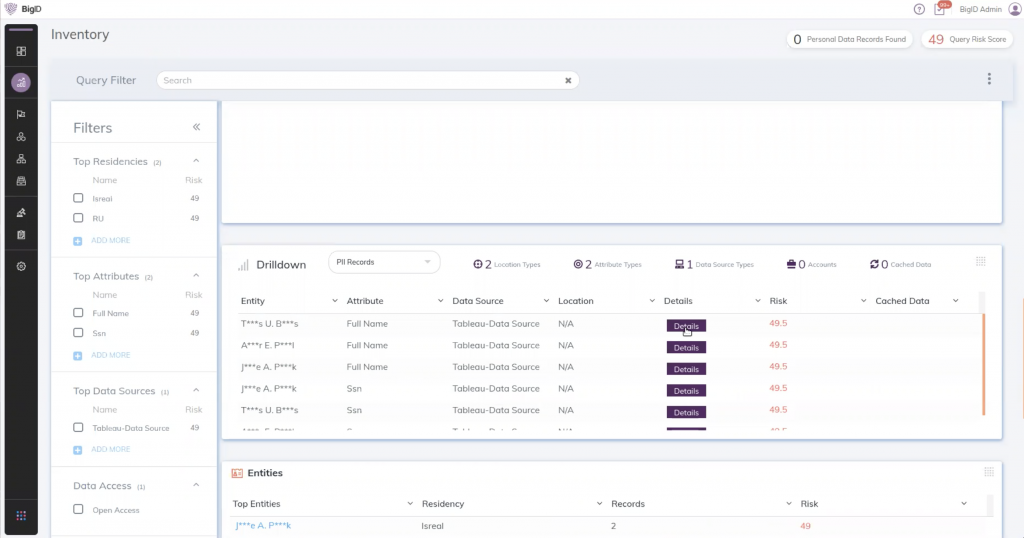 Data Warnings on Tableau Dashboards
Enable BigID to automatically create data warnings to be viewed directly on Tableau dashboards to warn users if the underlying data has any issues – for example, stale data, or quality issues, or sensitive data with privacy restrictions.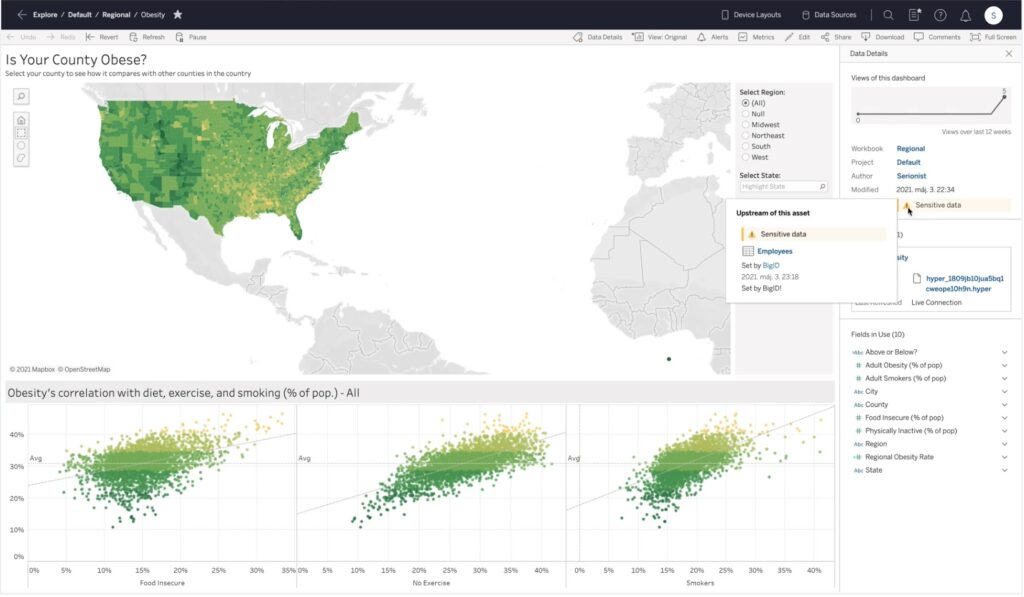 Insights & Certifications in Tableau Catalog
Certify datasets and add metadata for more context, including sensitive data warnings, in Tableau Catalog for Tableau users to select the best data for analysis. Tableau users benefit from BigID insights integrated in the Tableau Catalog.