Alation & BigID
Automate Data Stewardship & Privacy-Aware Analytics Governance 
Alation Integration with BigID
The BigID integration with the Alation collaborative data catalog enables CDOs, data analysts and analytics stewards to maintain an automated and accurate process for describing, classifying and contextualizing enterprise data for privacy aware governance. Through ongoing mapping of business terms and policies defined through Alation's data curation with findings from BigID's ongoing data discovery and ML classification, customers can ensure accurate, contextually relevant outcomes for business users, automate governance programs and proactively reduce privacy risk for analytics programs.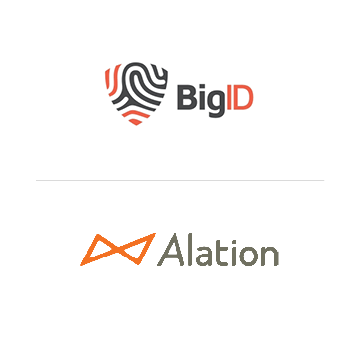 Accelerate population of data catalogs
Minimize manual tagging of entities, sensitive data and business assets entities through BigID's comprehensive coverage of data sources (including unstructured, cloud & NoSQL) 
Understand data in a privacy context
Automate mapping & tagging of business terms, policies & regulations defined by stewards using Alation for all sensitive and personal data identified via BigID's identity-centric discovery
Augment governance with automated data insights
Reinforce feedback loop between data curation and ongoing data discovery for improved accuracy and active metadata relevance  
Enable Privacy-Aware Self Service
Provide policy and regulatory context at query time for business users by leveraging automated attribute mapping and tagging for sensitive data sets populated by BigID  
Enhance governance enforcement
Consistently & comprehensively ensure policy and privacy compliance through integration of Alation attribute definition via crowdsourcing with BigID ML discovery accuracy & inference 
Reduce Data Silos & Conflicting Data Policies
Provide a single governance interface across all datasets with consistent and automated tagging of findings from ongoing BigID ML discovery in depth to Alation policy dashboards.