Know Your Data in Snowflake
Automatically discover, classify, and correlate your personal and sensitive data in Snowflake

Discover and Protect Data in Snowflake with BigID
BigID discovers, classifies, and catalogs sensitive and personal data in Snowflake: helping organizations comply with privacy and protection regulations on data stored in Snowflake. BigID also uncovers dark data automatically – while leaving the data itself fully intact.
Employing an agentless connector, BigID lets you refine your scans by filtering out particular database schemas. Connect to a Snowflake account, specify the objects of interest, your geography, and any private endpoints – and from there BigID scans, discovers, categorizes, and analyzes your data.
Get modern cloud-native data warehouse scanning technology for data privacy, protection, and perspective with BigID.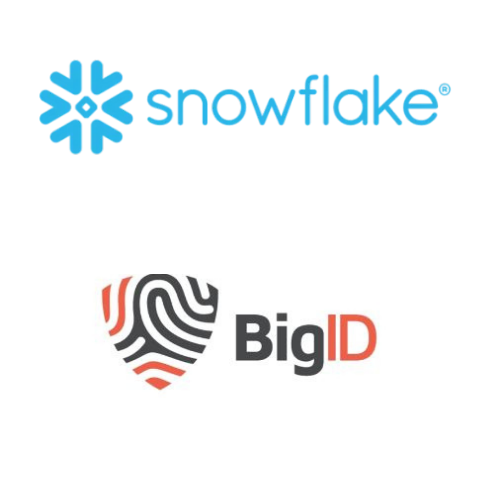 Snowflake at a Glance
Scalability
A data warehouse that scales automatically at the level of storage, compute, and services layers, non-disruptively — while queries are running
Performance and Speed
A virtual warehouse that lets you take advantage of the cloud's built-in flexibility to rapidly run a high volume of queries
Accessibility
Addresses concurrency issues through a unique multi-cluster architecture. Queries from one virtual warehouse never impact those of another.
Structured & Semi-structured Data
Manages all aspects of storage: organization, file size, structure, compression, metadata, statistics. Storage layer runs independently of compute resources.
Seamless Data Sharing
Share data with any consumer — not just Snowflake customers.
High Availability and Security
Continuous operation through network failovers with minimal customer impact
About Snowflake
Snowflake is a SaaS-only cloud data platform with options to build on AWS, Azure, and GCP. Designed uniquely for cloud deployments, Snowflake liberates you from the problems and constraints associated with hardware-based data warehouses. Snowflake leaves no concern about having to run hardware — or software. Store and compute to scale independently.
Data Pipeline allows for easy transfer of data into Snowflake. Share governed and secure data in real-time. Snowflake decouples the storage and compute functions for Big Data, requiring fewer CPU cycles, and is great for hosting IoT applications.