Join Our Global BigID Team
We're building a strong, diverse team of curious, creative, & innovative people – join us!
Our Values
We look for people who embody our values - Care, Do,Try & Shine.
Care
We care about our customers and each other
Do
We do what it takes to make a positive impact
Try
We try our best and we don't give up
Shine
We shine and make it our mission to always stand out
See why BigID is one of Glassdoor's best places to work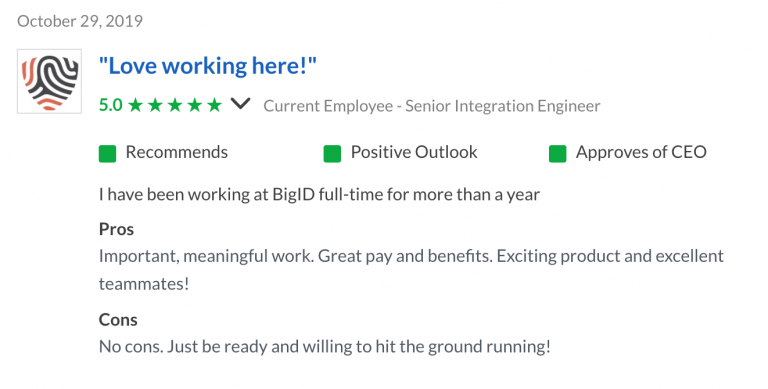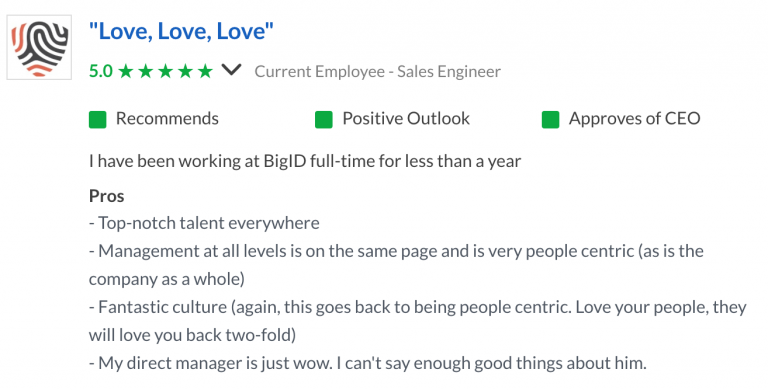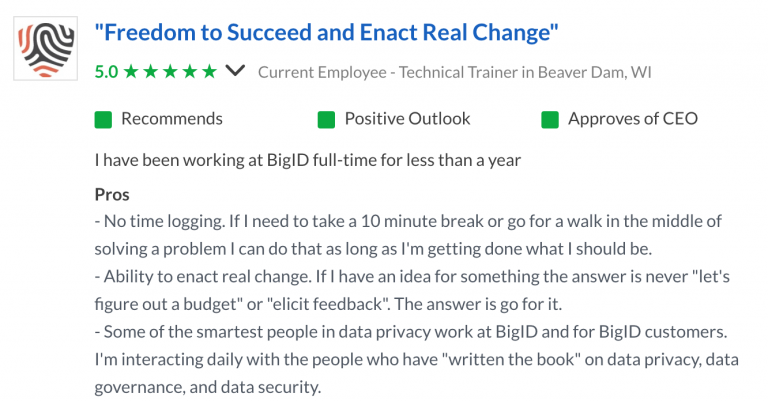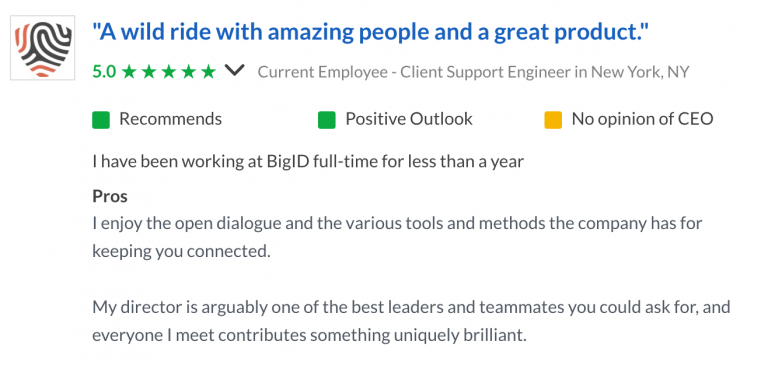 Perks & Benefits
Stock Options
Equity participation – everyone shares in our success
Time Off
Work life balance is very important to us, we encourage our employees to take the time they need, when they need it!
Team Outings
We take the time to celebrate and reward our team – whether that's lunch, happy hour or a sports outing!
Training & Development
Knowledge training & career development tracks
Testimonials
I love the culture and the people, who are always open and willing to help, super innovative, and collaborative. It's a stimulating environment - and fun - every member of the team continuously thinks of ways we can innovate, make a difference, and most importantly, partner with our clients to address their most critical business challenges.
--Linda Pollack, Regional Sales Manager, NY
Working at BigID is a great pleasure for me. I get to work with good talented peers who help me in realizing the full value of BigID to our clients. BigID management never misses an opportunity to recognize the amazing work we do, but also make sure we have all tools available at our disposal to be successful in our role.
--Sandeep Dmello, Professional Services Team Lead, India
BigID truly represents an environment with a genuine spirit of cooperation and shared goals. Further, I greatly appreciate that everyone's ideas are heard and successes are celebrated. With plenty of room for career advancement and lots of perks, there is no place like BigID!
--Tamila Abenova, Senior Sales Operations Analyst, NY
I have been working for BigID professional services team for more than 1 year now and I can say it has been a really nice and constructive experience. I really appreciate the BigID culture & values and I love to work with amazing and talented colleagues from all over the world.
--Paolo Fornoni, Senior Services Delivery, UK