Unlocking FinServ Efficiency: A Webinar with Fifth Third Bank and Snowflake
Data Intelligence
Data Perspective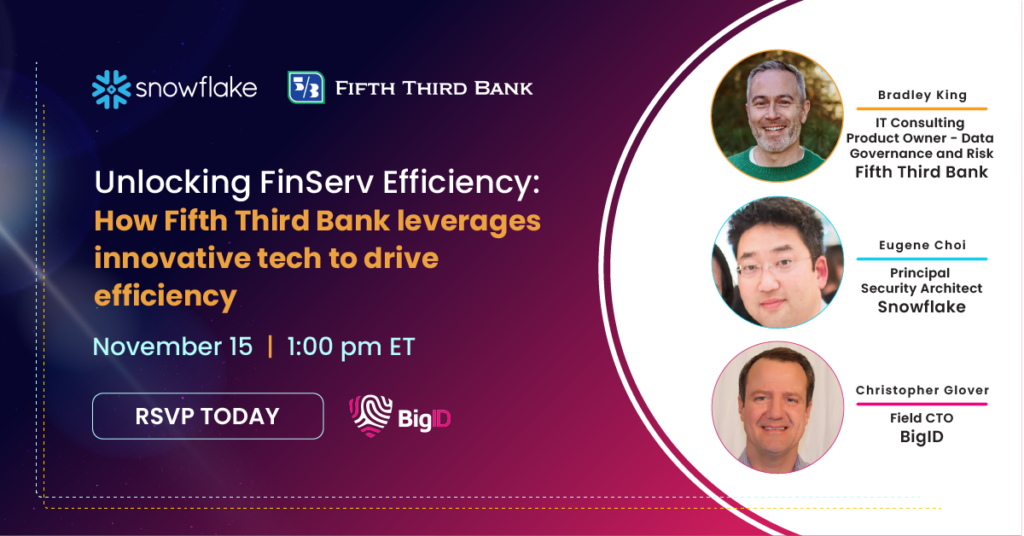 Data is the backbone of today's interconnected world, but safeguarding it and realizing its full potential can be complex. Join us for an upcoming webinar, "Unlocking FinServ Efficiency: How Fifth Third Bank Leverages Innovative Tech to Drive Efficiency," on November 15 at 1 PM ET. Our expert panel features Bradley King, IT Consulting Product Owner – Data Governance and Risk from Fifth Third Bank, Eugene Choi, Principal Security Architect at Snowflake, and Christopher Glover, Field CTO at BigID.
In a world where data is king, navigating the complexities of data protection, compliance, and technology is paramount. This webinar is your guide to leveraging innovative tech to unlock greater efficiency in managing complex data landscapes.

– Brad Tips, Sr. Director, Partner Management, BigID.
What You'll Learn
By attending this webinar, you will gain:
Actionable Insights into Data Solution Strategies: Learn strategies tailored for large-scale data environments and the intricate regulatory requirements of the financial services sector. Understand how to navigate these complexities effectively.
Expert Perspectives on AI Governance: Get a grasp of AI governance from seasoned experts and discover how to harness technology to meet the evolving challenges in the data landscape.
Practical Advice on Managing Sensitive Data at Scale: Explore practical approaches to managing sensitive data at scale and discover how to drive automation to enhance efficiency.
Why Attend?
During this webinar, we will tackle pressing issues in data management, technology, and compliance. Fifth Third Bank, a leading US financial institution, will shed light on how they leverage technology partners like BigID and Snowflake to address California Consumer Privacy Act (CCPA) compliance, cloud risk assessment, and responsible AI adoption.
How to Register
Secure your spot by registering for this exclusive webinar here. We look forward to having you with us!