Keep 'em Coming! BigID Named an InformationWeek 2019 Tech Vendor to Watch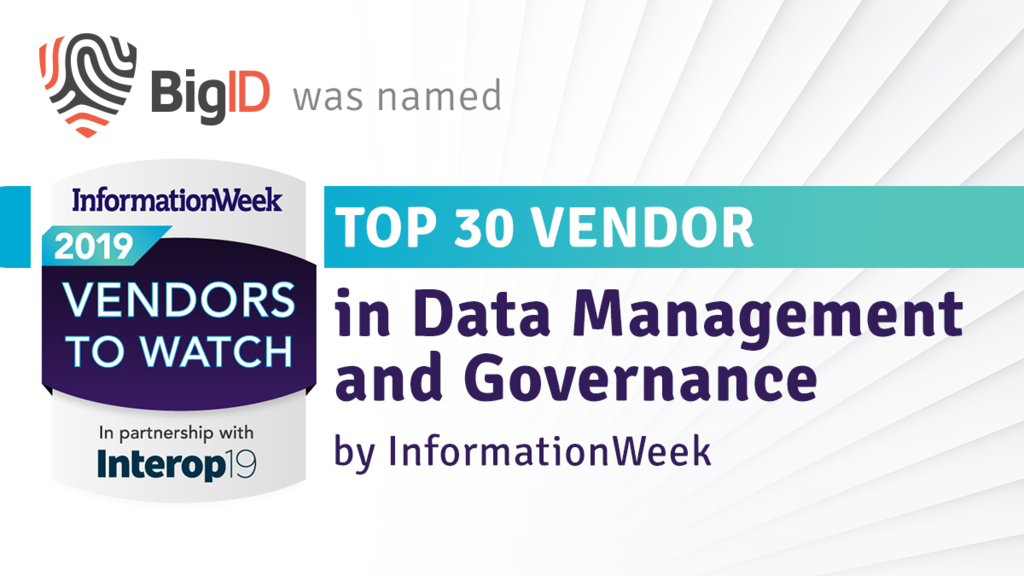 2018 is coming to a close but the accolades touting BigID as a transformative technology, changing how enterprises manage and protect personal information continue to roll in. Following our RSA Innovation Sandbox win earlier in the year and recently being named a 2018 Cool Vendor by Gartner, InformationWeek included BigID in its 2019 Vendors to Watch list, a roundup of the hottest vendors in cloud, DevOps, infrastructure, security, and data and analytics.
The vendors chosen were based on many criteria, including market leadership, analyst reviews, user reviews, depth of product portfolio, and product distinctiveness. BigID was recognized in the Data Management and Governance category for its ability to enable enterprises to overcome new, privacy-driven challenges in leveraging their most important asset for enhanced organizational productivity – data.
With the implementation of the EU's General Data Protection Regulation (GDPR) and the pending California Consumer Privacy Act (CCPA), organizations are scrambling to meet new standards in how they govern and manage personal information. According to a recent MicroStrategy survey, 49 percent of respondents stated that data privacy and security concerns are holding their organization back from using data more effectively. Furthermore, 45 percent of the same respondents reported that less than half of their organization's data is governed – a frightening admission with fines of up to 4 percent of total global revenue for non-compliance under GDPR.
In this new age of regulation, enterprises need more accurate, effective and automated ways of discovering, inventorying and protecting their customer's personal and private data that they store and process. Through the application of machine learning and identity intelligence, this is exactly what we provide. Our innovative platform advances the ineffective, legacy practices of organizational data understanding and delivers a first-of-its-kind ability to address critical privacy requirements, such as GDPR and CCPA.
BigID's vision is to build a bridge between businesses and consumers around privacy and personal data protection, empowering companies to become more responsible stewards and safe-keepers of personal information. Continued recognition from the industry's most prestigious award programs ensures that we are well on our way in achieving this goal, and it is a tremendous honor to be included in InformationWeek's 2019 Vendors to Watchlist.
To learn more about our platform schedule a 1:1 demo.