Another One! BigID Named Winner in Golden Bridge Award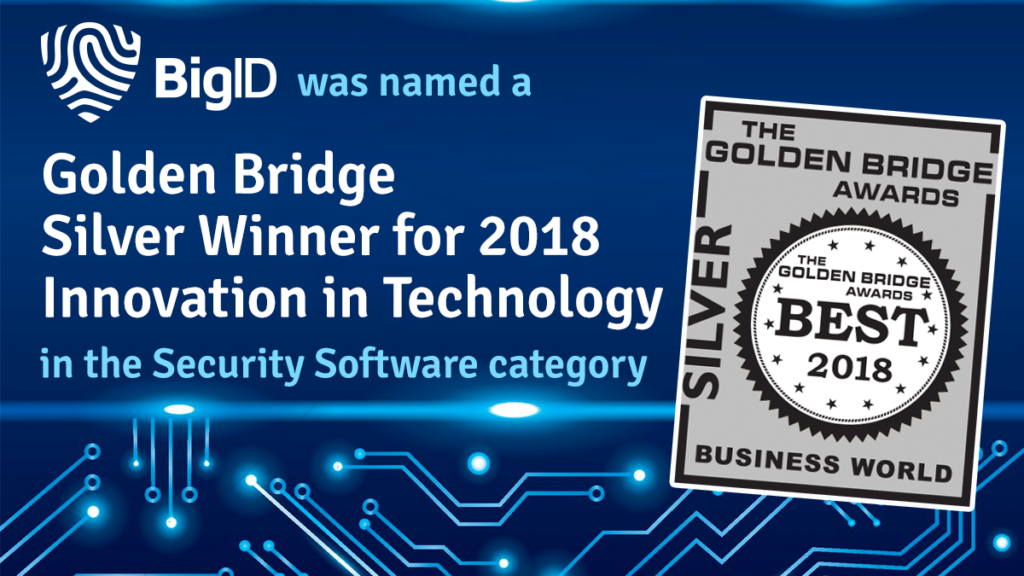 Another One! BigID Named Winner in Golden Bridge Awards
It's been quite the year for BigID, following our recognition as RSAC Innovation Sandbox winner and being named a 2018 Cool Vendor by Gartner. To continue our momentum, we are excited to share that BigID was selected as a winner in the 2018 Golden Bridge Awards for the "Innovation in Technology – Security" category. The Golden Bridge Awards recognizes the best innovations, products and services, and executives across the globe, and we're honored to be named one of this year's winners.
Data privacy has become an imperative for the success of any company, especially since the EU's GDPR privacy law and China's Cybersecurity Law went into effect in May. With privacy regulations proliferating across the globe and introducing fines that reach as much as four percent of annual revenue, enterprises need more accurate, effective and automated ways of discovering, inventorying and protecting their customer's personal and private data that they store and process.
BigID is committed to providing our customers with the most innovative security and privacy technology. Our platform transforms how enterprises protect and manage the privacy of their customer's personal data. With machine learning and identity intelligence, we provide enterprises with a first-of-its-kind ability to address critical privacy requirements, such as GDPR and CCPA.
BigID's vision is to build a bridge between businesses and consumers around privacy and personal data protection, empowering companies to become more responsible stewards and safe-keepers of personal information. With our solution's privacy and data protection command console, organizations can easily monitor and analyze privacy and risk around personally identifiable information — information that is protected by the new privacy regulations across the globe.
To learn more about our platform, schedule a 1:1 demo.