Discover and Protect Crown Jewel Data
Data Intelligence
Data Protection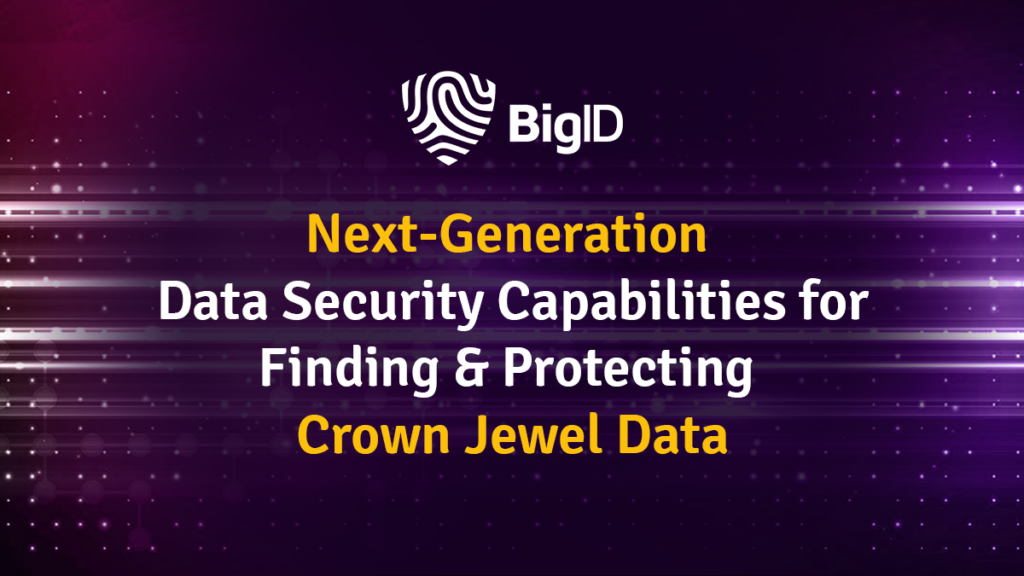 Our new data security capabilities are empowering organizations to reduce risk, protect their crown jewels and get unprecedented coverage and visibility across their enterprise data environment.
How? By building on a discovery-in-depth approach for identifying any kind of sensitive or personal data anywhere inside a modern data landscape: from data at rest to data in motion.
BigID's new data security capabilities address critical cybersecurity use cases: empowering customers to protect crown jewel data, discover dark data, automate labeling and policy enforcement, leverage access insight to highlight security vulnerabilities and overexposed data, and remediate risk on their most sensitive data.
– 360° Visibility of data at risk: BigID's discovery-in-depth approach uncovers dark data across the entire data ecosystem with coverage for over 60 data connectors that support on-premise, cloud and hybrid environments – including support for legacy file server formats like SMB, NFS, CIFS, SharePoint, Exchange as well as modern platforms like Box, Google Drive, O365, Amazon S3, Azure File, HDFS, Snowflake, Outlook, Gmail, Slack, data in motion and more.
– Cluster Analysis: BigID's patent-pending cluster analysis technology leverages advanced machine learning to give customers profile insight into what data is duplicate and similar. Using cluster analysis, BigID customers can quickly identify similar sensitive data and remediate accordingly.
– Access Insight: BigID's new access intelligence dashboard highlights data at risk at-a-glance, uncovering overexposed data and prioritizes remediation efforts to secure sensitive data wherever it lives. BigID customers can easily find over-permissioned and open access files everywhere – from shared folders to S3 buckets – to minimize the risk of data leaks and data breaches.
– Advanced ML-Driven Classification: BigID's discovery-in-depth platform introduces document classifiers to automatically analyze file content and automatically identify document types, from patents to RFIs to invoices to M&A documents. BigID's advanced data intelligence technology introduces unsupervised classification to automatically identify and classify sensitive data by type.
– Labeling Automation: BigID lets customers leverage their content, file classification, and cluster analysis to simplify labeling retroactively across unstructured files and images.
– Remediation: BigID introduces native and partner remediation options, helping customers reduce risk on all of their sensitive and personal data across all data stores – from automated labeling and policy enforcement to access governance, encryption and more.
To learn more, get a 1:1 demo to see BigID's next-gen security capabilities in action – or click here to download our white paper on 6 Steps to Securing Enterprise Data.