Building Trust and Creating Responsible Privacy Frameworks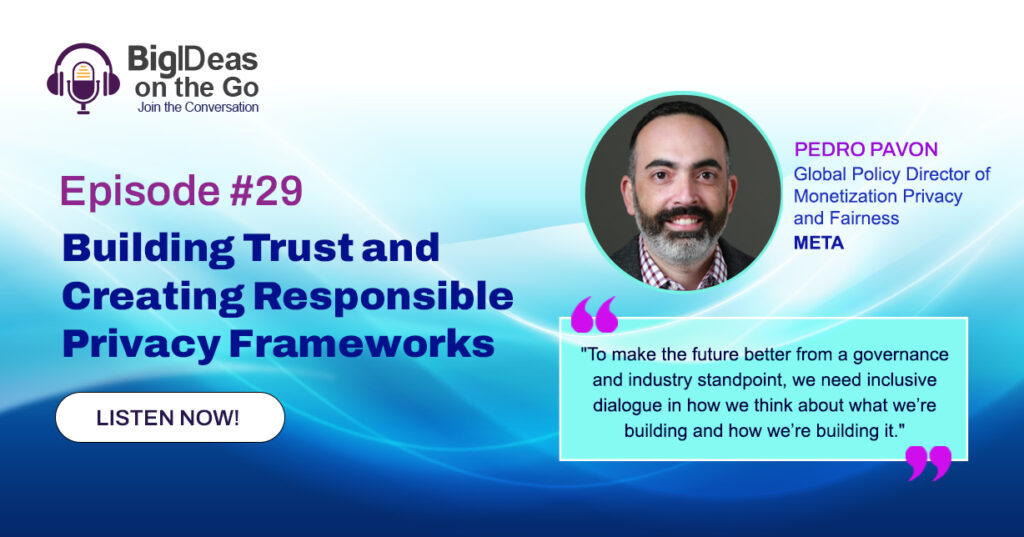 In this episode Pedro Pavon, Global Policy Director of Monetization Privacy and Fairness at Meta, joins BigIDeas on the Go to talk about privacy in advertising, the future of monetization, building trust between regulators and the industry, and how to build more inclusive frameworks.
Pavon took an unconventional route to arrive in the data privacy landscape, making transformative stops in law school, the Department of Justice, the Department of Energy, and a law firm.
"The salesmanship part of being an outside counsel just wasn't for me, so I went in house at Oracle and really dug deep there into privacy and data licensing. Adtech, specifically Oracle, sort of just unleashed me into this business that they were building and growing."
In five years Pavon helped them grow their digital advertising business from zero to a multi billion dollar enterprise. The growth didn't stop there. After an impactful and educational tenure at Salesforce, Pavon made the move to Meta where he was given the chance to expand his portfolio to policy.
"We do everything you can imagine", says Pavon, "but if I had to narrow down our work to a couple sentences I'd say we do a lot of internal advocacy and transferring some signals from external stakeholders into our product and engineering team. So having our engineering teams understand how their products are going to land and be received is part of my team's work and then external-facing engagement, where we talk directly to stakeholders and sort of give them insight into our plans and our product ideas."
Implications of Privacy in Advertising Monetization
Pavon describes the history of digital advertising over the past few decades to be mostly 2-dimensional—with something for users to absorb, but not necessarily interact with.
"As we move into the metaverse and into augmented and virtual reality spaces that's going to change right… and so, laying the groundwork for approaching the new world of advertising in this augmented and virtual reality space that Meta and other companies are building is going to be really important, and one of the ways that we can do that is by taking the learnings from the wins and losses mistakes and good outcomes of the past."
One of the ways Pavon has navigated the delicate relationship between his team and stakeholders is by operating with transparency and truth. He states that "sharing and creating a culture of trust" takes time for an organization, especially one with the size and reach of Meta.
Pavon stressed the importance of being an ethical data steward. In a time where massive amounts of data are collected, how and what you use it for is crucial to protecting people's privacy. Only collecting what you need and making it clear for users is a key driving factor in his work.
The automation happening in the advertising industry has only strengthened the need to create safety levers "to protect the most vulnerable people impacted by these algorithms and you'd say, well, like ads is kind of low stakes it's just ads but that's not true, there are categories of ads that can have tremendous economic implications on people, you know well, wellbeing and safety."
Listen to the full episode to hear more of Pedro Pavon's insights on regulation in the industry and the future of the privacy landscape.