BigID Crowned "Data Privacy Solution of the Year" in the 2023 Cybersecurity Breakthrough Awards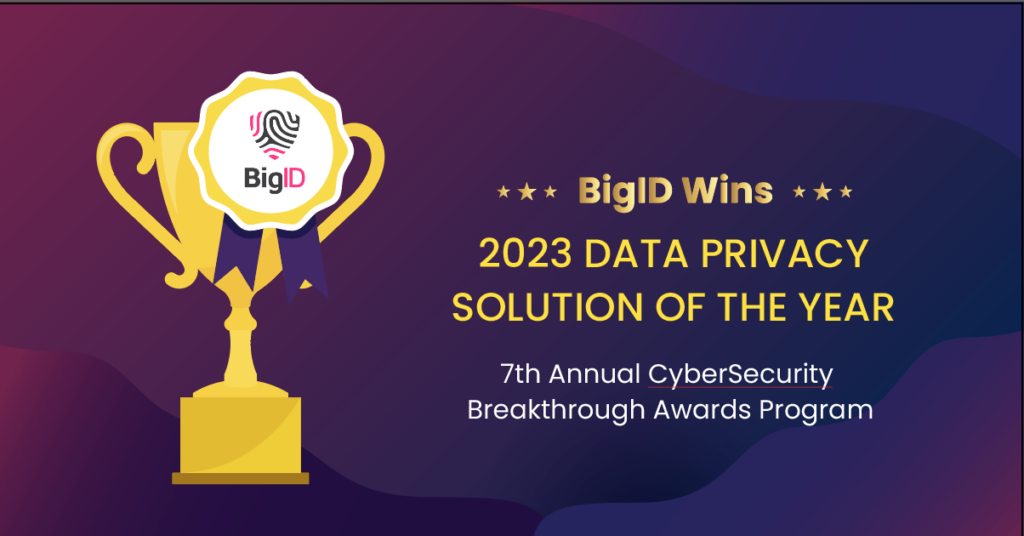 We're excited to announce that BigID has been crowned the "Data Privacy Solution of the Year" at the 7th annual CyberSecurity Breakthrough Awards!
This accolade is a testament to BigID's dedication to redefining data protection but also sets a gold standard for the entire industry. Learn more about the award and what sets BigID apart below.
Learn More About the Cybersecurity Breakthrough Award
The CyberSecurity Breakthrough Awards program is conducted by CyberSecurity Breakthrough, a leading independent market intelligence organization.
The mission of the CyberSecurity Breakthrough Awards is to honor excellence and recognize innovation, hard work, and success in various information security categories, including Cloud Security, Threat Detection, Risk Management, Fraud Prevention, Mobile Security, Email Security and many more.
BigID has been honored with multiple awards for its excellence in compliance, privacy, and security in the past couple of years, including being named "Compliance Software Solution of the Year" last year at the CyberSecurity Breakthrough Awards program.
This year's competition was fierce, but BigID stood out thanks to its revolutionary approach to data privacy, empowering organizations to know their data and protect their customer information.
BigID: One Stop Shop for Privacy, Compliance, and Security
In today's world where data has become the new oil, businesses are constantly on the lookout for robust privacy management and data security tools. BigID makes it easy for organizations to find, protect, and secure the data they collect- whether on-prem or in the cloud.
With BigID, customers can automate and ensure compliance with CCPA, GDPR, HIPAA, PCI, and other data privacy and protection regulations and security frameworks. Additionally, customers use BigID to reduce their data risk, automate security and privacy controls, achieve compliance, drive innovation, improve customer trust, and understand their data across their entire data landscape.
Take Data Privacy and Security to the Next Level with BigID
From the beginning, we've helped a range of companies across many different sectors, from Fortune 100 companies to retail to SaaS and many more, navigate the shifting privacy terrain.
Schedule a 1:1 demo with our privacy and security experts to see how we can help your organization.