Reimagining Enterprise Data Security & Compliance with Hybrid Cloud DSPM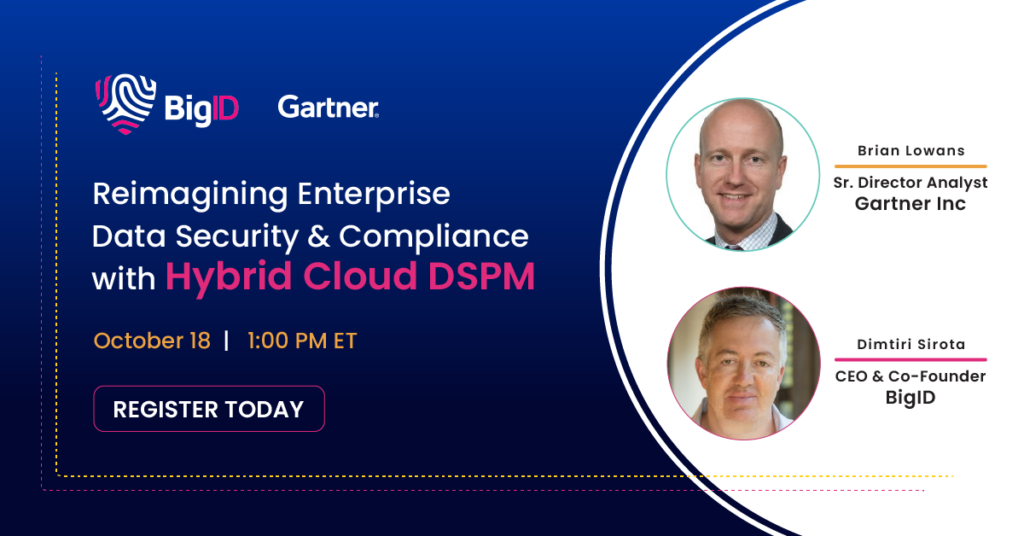 As enterprises accelerate their shift to the cloud, there is a growing need for them to reimagine their data security and compliance strategy for the new cloud-first, hybrid environment. The cloud introduces new data risk considerations owing to the volume of data in the cloud, velocity of change of that data, variety of formats and locations where data is stored and unique vulnerabilities deriving from cloud misconfiguration and cross-regional connectivity.
This webinar featuring BigID & Gartner will explore how the seismic shift in how enterprises collect, manage and secure data give rise to next generation Data Security Posture Management (DSPM) technology to meet the data security and compliance needs of the next decade.
This webinar will cover foundational and advanced topics in DSPM:
Foundational
What is DSPM and how is it different from DLP and DAM
How DSPM Tackles the Cloud Dark Data and Shadow Server Problem
How DSPM Addresses Data Risk Through Sensitivity Classification
How DSPM Addresses Data Access and Activity Risk
How DSPM Addresses Data Cloud Misconfiguration and Situational Risk
Advanced
How to Support Hybrid On-prem, SaaS and Public Cloud Environments
How do Address structured, semi-structured and unstructured data formats with DSPM
How to Address Privacy Use Cases like DSAR and Residency with DSPM
How to Address Data Governance Use Cases like Cataloging & Glossary with DSPM
How to Leverage AI in DSPM
Considerations for Enterprise Security and Scale in DSPM
Don't miss out, RSVP today!