The Future of Cloud Security, AI, and Privacy Regulations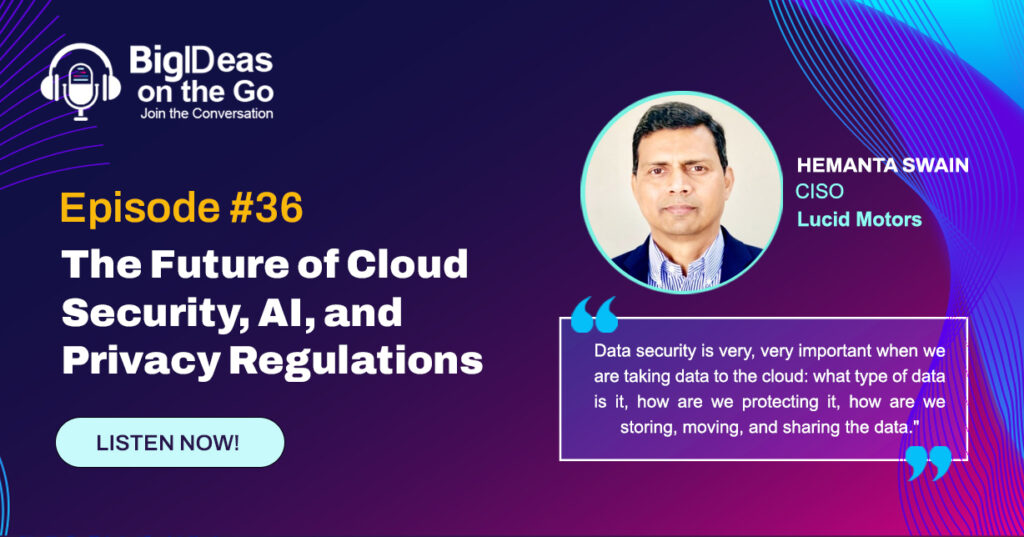 Hemanta Swain, CISO of Lucid Motors, joins the podcast to talk about the focus of today's CISOs, data protection in cloud migrations, upcoming privacy regulations, the implications of AI, and more.
In his current role, Swain has several core responsibilities, including assessing and mitigating risk in every aspect of the business and developing various security programs— a feat he has accomplished in as little as a year.
"I have to look at how to take care of safety, security of the customers, look into how to minimize the risk for the internal customer, and employees. Our workforce is productive at proactively managing risk as well as complying with regulations and building trust."
An important aspect driving success within the company is the open communication between stakeholders and Swain's security team. Getting relevant members to understand that cyber security risk is real has been huge in fostering collaboration.
Data privacy in the mainstream
The data privacy landscape has changed drastically in the past decade. Swain remembers a time when perceptions of data collection were much more lax. The difference has been tenfold— with new regulations and a greater emphasis from public consumers.
"We are paying attention to when we are collecting the privacy data, how we are managing, maintaining it, and asking if there is any risk? Every day we have the digital framework to protect, to make it harder for the bad guys."
To hear more of Hemanta Swain's insights about the evolution of data breaches and cloud security — listen to the full episode here.