BigID Has a Big Presence at SAP SAPPHIRE NOW 2018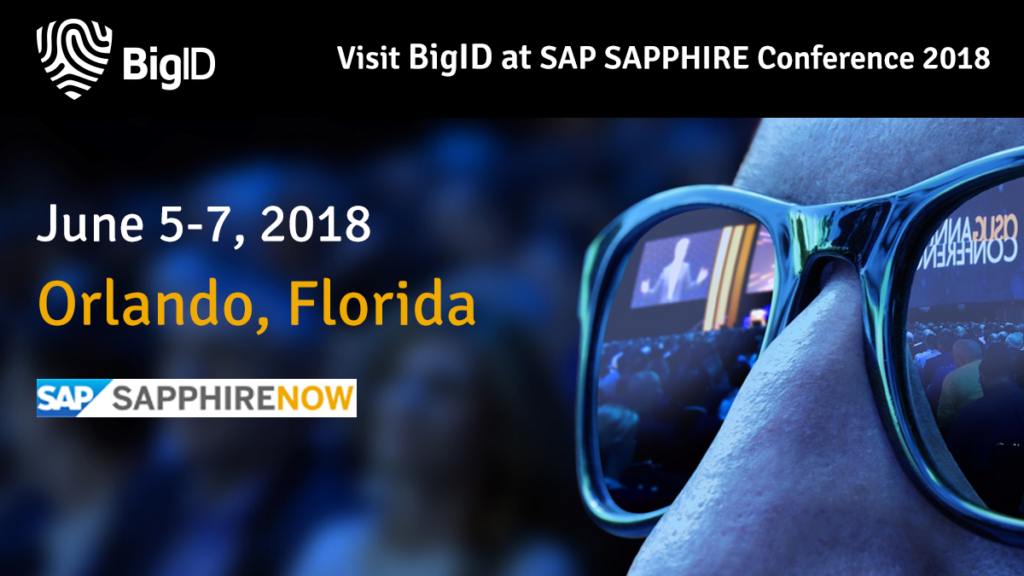 One of the technology industry's most well-established and well-attended user conferences of the year kicks off next week in Orlando, Florida:SAP SAPPHIRE NOW and ASUG Annual Conference. As a critical business priority and a defining 21stcentury problem, privacy and personal data protection will be a big part of the agenda. BigID is privileged to be front and center during the conversation at this year's event, highlighting how our innovation can help SAP customers extend their investments for new privacy and data protection requirements
BigID CEO Dimitri Sirota and Chief Product Officer Nimrod Vax are leading and participating in multiple sessions on how enterprises can leverage machine learning and identity intelligence to more effectively prioritize data privacy and meet the requirements of GDPR.
During a keynote on Monday, June 4 at the SAP Global Partner Summit, Sirota will join SAP partners to discuss disrupting business in the era of digitalization. On Thursday, June 7, Sirota will join SAP.io SVP and Managing Director Ram Jambunathan, fellow SAP.io portfolio company Advanced Voice Research Labs and SAP chief strategy officer Deepak Krishnamurthy in a fireside chat on building an innovative startup with SAP.io.
SAP software is often at the heart of business-critical functions. Increasingly, SAP customers are looking at how software cannot only deliver operational efficiency and automation but transform their businesses and create new opportunities to engage with customers and generate insights from data analytics and sharing. BigID's ongoing investment in innovation and integration is aimed to help SAP customers better understand and manage at a scale the data that is stored and processed in their SAP infrastructure – as well as position them for growth through intelligent data privacy protection as they embark on new business initiatives.
BigID is a SAP.iO showcase partner and will be demonstrating the BigID platform throughout the event at booth #LE532. BigID leverages machine learning and identity intelligence to help enterprises operationalize data privacy and address compliance requirements for global regulations, like the EU's General Data Protection Regulation (GDPR).  By replacing manual spreadsheet and survey-based privacy compliance with data-driven personal data protection and privacy automation, organizations can more effectively prioritize the management of customer and employee data across every data store.
Following is a full rundown of BigID events at the show.
Monday, June 4
Tuesday, June 5
Wednesday, June 6
Thursday, June 7
We look forward to seeing you there. To schedule a demo outside of SAP SAPPHIRE NOW and ASUG Annual Conference, go to https://home.bigid.com/demo or contact BigID at [email protected].