BigID Wins 2019 InfoSec Award for Privacy Innovation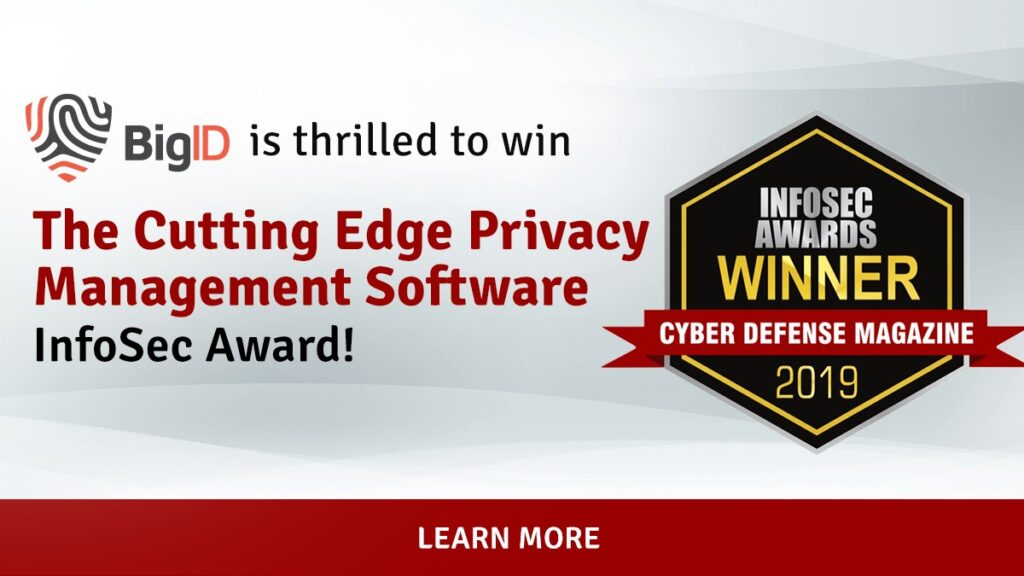 Privacy Innovation Winner!
Here at BigID, we've been fortunate to have our platform continuously recognized by some of the industry's top organizations. Today, we're honored to share that Cyber Defense Magazine has named BigID a winner in the InfoSec Awards for the privacy management software category. This is Cyber Defense Magazine's seventh year of honoring some of the most innovative and proactive cyber security companies across the globe.
Today, enterprises have to systematically and sustainably address data privacy compliance requirements – such as GDPR, CCPA and NYDFS — to avoid fines and reduce risk. However, many organizations struggle in terms of what they should be doing with personal data and information to ensure they meet the requirements. This is where privacy intelligence comes into the picture: without a clear understanding of what and whose data enterprises are dealing with, they cannot sustainably address compliance or digital privacy ethics.
As the leader in enterprise data protection and privacy automation, BigID enables organizations to safeguard personal data, more efficiently comply with today's global data privacy regulations and manage breach assessment. BigID aims to build a bridge between businesses and consumers around privacy and personal data protection, empowering companies to become more responsible stewards and safe-keepers of personal information. In fact, BigID was designed with the purpose of enabling organizations to operationalize privacy compliance and inject privacy intelligence into a company's security and data management infrastructure – effectively solving the challenges of digital privacy and ensuring that the enterprise secures its most important asset, customer data, in an ethical manner.
To learn more about our platform get a 1:1 demo.