Cloud Security for the Energy Industry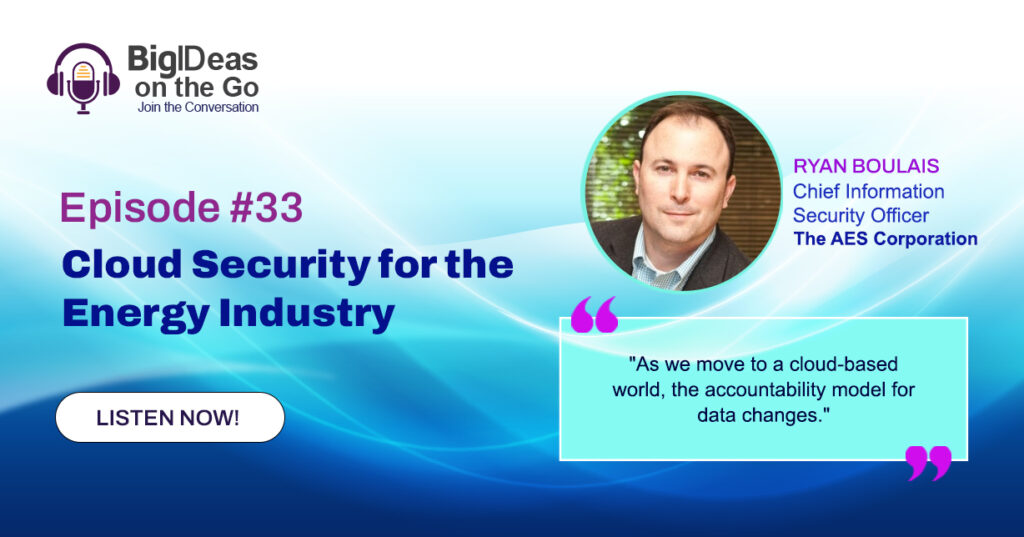 Ryan Boulais, Chief Information Security Officer at The AES Corporation, joins BigIDeas on the Go to discuss data security and cloud security in the energy industry, the evolution of cybersecurity programs and DSPM, and where technology and global privacy regulations will have to intersect.
In his role at renewable energy company AES, Boulais has led engineering teams, security operations, and is largely responsible for the firm's identity access management transformation. Building a data protection program has been key to getting aligned with their security initiatives.
"When you look at trends in energy in general, I think the relationship that I'll say consumers or customers are going to have with their traditional power companies is probably going to change over the next couple of years. As we move to things like smart grid to energy management as people look to buy more, you know electric vehicles, and et cetera. How we kind of consume power and manage that is probably going to look very different from what we do today."
Reflecting on the trends and technology of the cloud computing space, Boulais stresses how the nature of shared responsibility is crucial for operating in a cloud based world. Like many other industries, the energy sector is subject to a lot of malicious actors.
Boulais notes how security solutions are not a one size fits all saying, "It may not be an all in one model, or it may not be everything for everyone. When it comes that way there might be some functions that still need to operate in a different way and as security professionals, we didn't make sure that we're securely enabling that— regardless of whether it's zero trust or something else."
To hear all of Ryan Boulais' insights on cloud data security in the energy landscape listen to the full podcast.