BigID Wins 451 Firestarter Innovation Award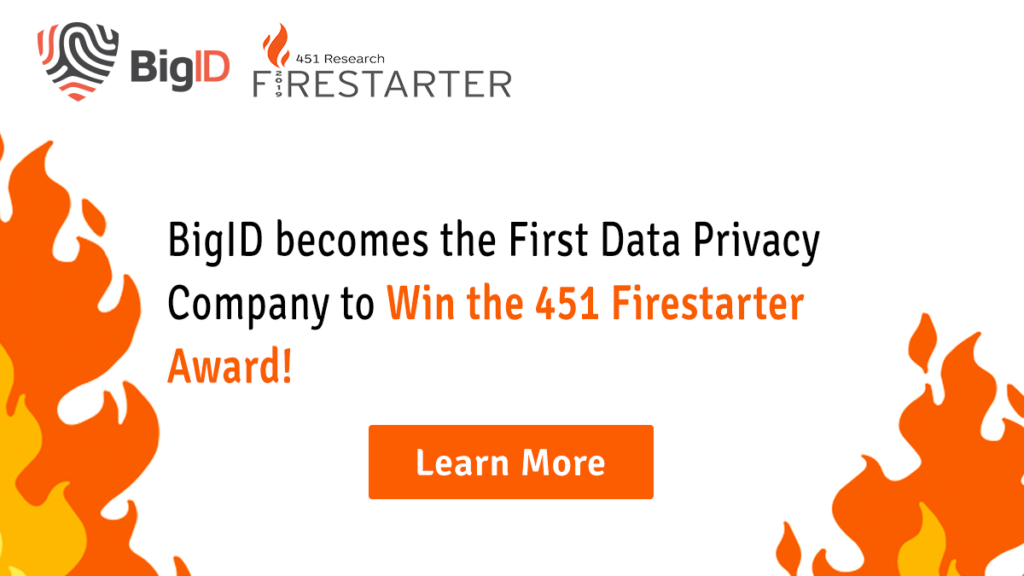 BigID has taken home yet another prestigious industry award, being named a 451 Firestarter by leading technology research and advisory firm, 451 Research. The quarterly program recognizes companies significantly contributing to the overall pace and extent of innovation in the technology market. There isn't a market in existence as combustible as enterprise data privacy and protection and the Firestarter recognition – the first-ever awarded to a privacy automation company – speaks to BigID's unique functionality in enabling businesses to thrive in this new age of regulation.
Beginning in Europe with the landmark General Data Protection Regulation (GDPR) and spreading everywhere from India to Brazil to Thailand, organizations are mandated to fundamentally augment the way they obtain, use and govern personal information. As the first and most advanced purpose-built compliance tool for such regulation, BigID ignited the enterprise data privacy and protection market and is fanning the flames as U.S. law in the form of the California Consumer Privacy Act (CCPA) is set to go in effect in less than nine months.
Like GDPR, the CCPA grants consumers and employees unprecedented control over and knowledge of the data organizations collect on them utilized to enhance business processes and maximize revenue generation. California was the first to pass transformative legislation and we have since seen states from Washington to New York introduce similar regulations aimed at putting organizations back in their rightful role of data stewards, as opposed to owners.
With this drastic shift in control of consumer and employee information, organizations require compliance technology providing a never-before-seen level of identity intelligence, enabling them to automate the process of understanding whose data they hold, where, in what context and how that data is being accessed and used – this is how BigID is fueling the data privacy market. With modern organizations holding vast amounts of personal information across the data center and cloud in various stores and applications, privacy automation software is not only a business enabler, but it is also a business necessity.
Today, organization must be able to locate all the data they keep on an individual everywhere. Legacy technology is incapable of appeasing these modern requirements as it cannot identify contextual personal information or PI, cannot automatically determine to whom it belongs and cannot look everywhere an organization keeps personal data.
By leveraging AI and machine learning, BigID is replacing the legacy, manual processes of understanding and safeguarding enterprise data to meet regulatory demands in addition to answering essential compliance aspects of GDPR and CCPA such as processing data subject access requests (right to know, right to request deletion, etc.) and data breach notification.
Specific to CCPA, confusion exists regarding many of the details, with much of it rooted in a foundational provision: what constitutes personal information (PI) and how that differs from personally identifiable information (PII). According to the letter of the law –
(o) (1) "Personal information" means information that identifies, relates to, describes, is capable of being associated with, or could reasonably be linked, directly or indirectly, with a particular consumer or household. Personal information includes, but is not limited to, the following:
(A) Identifiers such as a real name, alias, postal address, unique personal identifier, online identifier Internet Protocol address, email address, account name, social security number, driver's license number, passport number, or other similar identifiers.
What this definition tells us is that broad interpretation of PI will be allowed under the California law and data like "household income" or "cross street" in most cases will be considered PI. As organizations move to an almost exclusive online interaction model with consumers, they are collecting petabytes of data about individuals at a rapid pace – much of which CCPA will consider PI.
Because of this, only a tool such as BigID's with unparalleled identity intelligence capabilities will be able to discover, map and inventory the entirety of data defined as PI by CCPA.
The privacy flame is only growing hotter as more regulations get introduced across the globe. It is an honor to be recognized as the first log on the fire by 451.