Consent Governance
Centralize your view of consent data.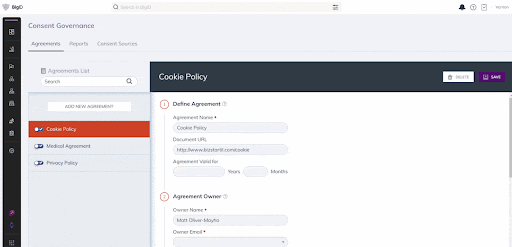 Learn More
Consent made easy
Create a centralized view of decentralized opt-in and opt-out data preferences. Define and evaluate compliance policies against all correlated consent records to protect data subject rights.
Automatically correlate multiple consents, preferences, opt-out records, and logs to personal information. View the personal information stored to determine the purpose, consent type, and related privacy policy.
Import consent agreements and assign legal or business purposes to an individual. Compare consent to actual purposes of use, confirm if purposes match consent in the privacy policy and for the agreed duration, and send the individual an access request report with consent preferences logs.
Report on consent and preferences across web, mobile, and 3rd-party systems. Consolidate the view on when consent is collected in systems and application, consent conditions, potential violations of purpose and legitimate use for fast consumption and create easier-to-analyze previews and reports for the business and customers.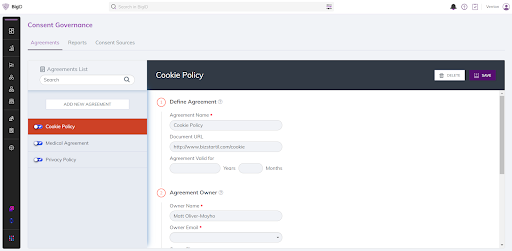 Consent management done differently
Manage Agreements
Unified Consent Hub
Centralize Consent
Policy Correlations
Complete Compliance Monitoring
Efficient Consent Governance
Evaluate, Validate, and Remediate
Streamline Consent Reporting Explore the BigID Privacy Suite