Data Quality App
Monitor the consistency, accuracy, completeness and validity of your data in one place
Learn More
Insight & action for better data quality
Proactively analyze and communicate data quality for data users to select the best data for business decisions.
Reduce the time spent manually managing data quality and relying on technical resources to set quality rules.
Get consistent data quality insights in a single view across all of your data in any data source on premesis or in the cloud.
Leverage dynamic profiling across all data for ongoing monitoring, timely notifications, and relevant data quality scores.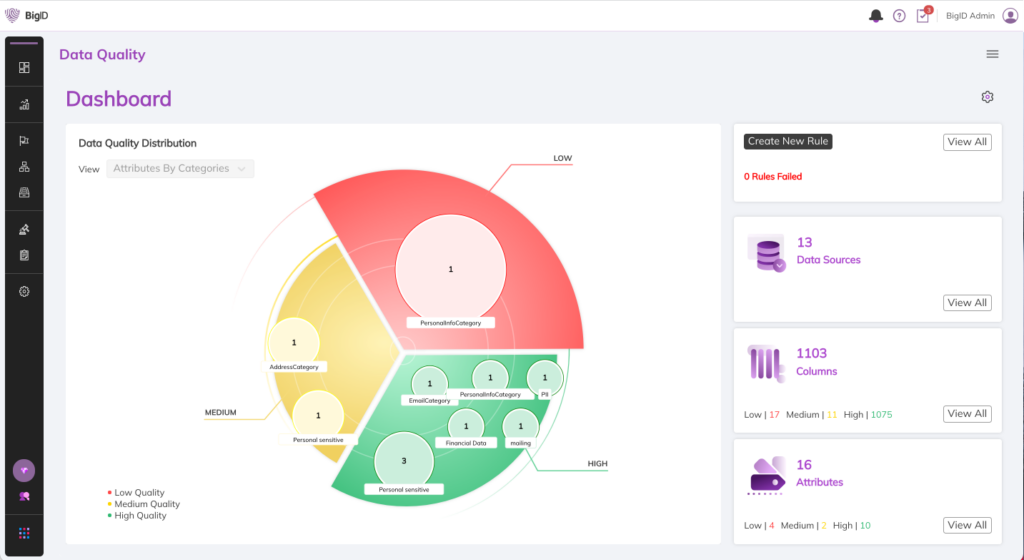 Data quality done differently
Calculate DQ score for each attribute, column, and data source to manage quality from a variety of custom user views.

Calculate Data Quality Score by Attribute

Define and apply rules that are attached to discovered data with custom definitions by Accuracy, Timeliness, Consistency, Completeness, Validity, or Uniqueness.

Define and Apply Data Quality Rules

Take action on discovered data quality insights using BigID Remediation app for an integrated solution.

Take Action With BigID Marketplace Apps

Apply consistent data quality rules across your complete data environment from a single point of control with broad data source coverage to manage all of your data, everywhere.

Apply Rules Across All Data Sources

Empower business users and data owners to set data quality rules with easy-to-understand options to customize rules.

Set Rules with Logical Interface

Discover high-priority data and use automation to monitor the health of those datasets.

Automate Data Quality

Data quality scoring and crowdsourced validation to know that data is high quality and fit for purpose

Increase Data Trust

Flag data assets that you use often to keep watch over changes in data quality.

Follow Favorite Items Explore the BigID Data Governance Suite
Scale data stewardship with automated discovery and recommendations for validation instead of manual curation.

Policy-driven retention management for all data, everywhere.

Enrich technical metadata with business and operational metadata for full visibility.