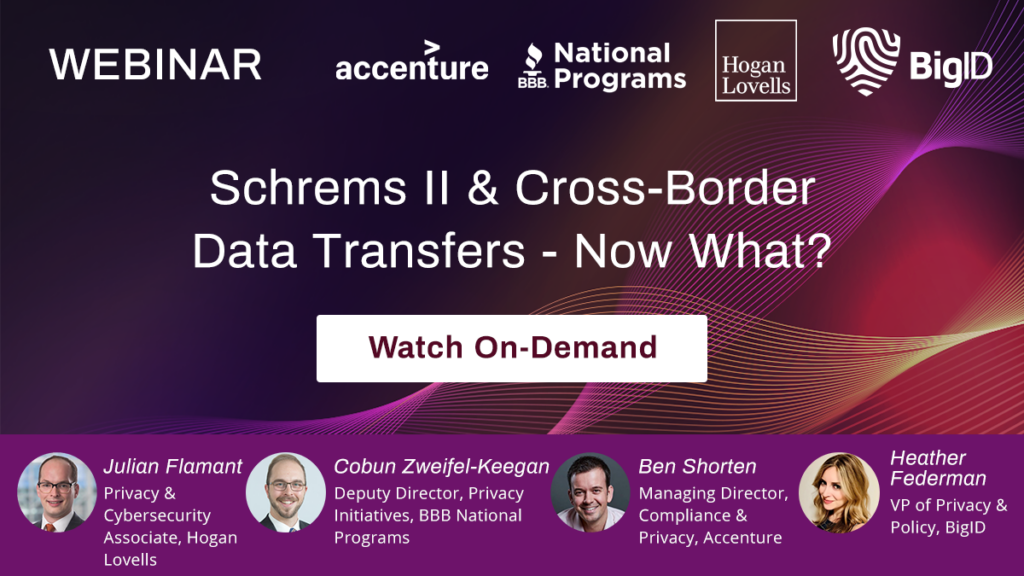 The Court of Justice of the European Union (CJEU) has just invalidated the EU-US Privacy Shield pact in the "Schrems II" judgement. Over 5,000 companies who leverage the Privacy Shield as a legal mechanism when transferring personal data from the European Union to the United States are now left wondering what to do next.
This essentially affects all businesses of any size, in any sector that processes EU data. This affects the way that personal data is collected, moved and shared across countries and borders, with potential ramifications across industries from social media to retail to the financial sector and everything in between.
Tune in to this webinar to hear from Hogan Lovells' Julian Flamant, Accenture's Ben Shorten, BBB National Program's Cobun Zweifel-Keegan & BigID's Heather Federman to hear about top considerations for privacy professionals as they brace themselves from the fallout of Schrems II and what the future holds for cross border data transfers.
Agenda Topics:
1.(Background) What happened // explanation of court case history
2.(Legal) What can companies do in lieu of Privacy Shield – BCRs / SCCs
3.(Technical) What can companies do to make sure they are in compliance with the legal mechanisms they leverage – monitor/validate data residencies and track x-border data flows
4.(Future) What are the long-term implications – trade relations between EU/US and UK/US, how this will impact other non-EU countries besides the US?