Building Data Trust: Measuring the Impact and Readiness for the CPPA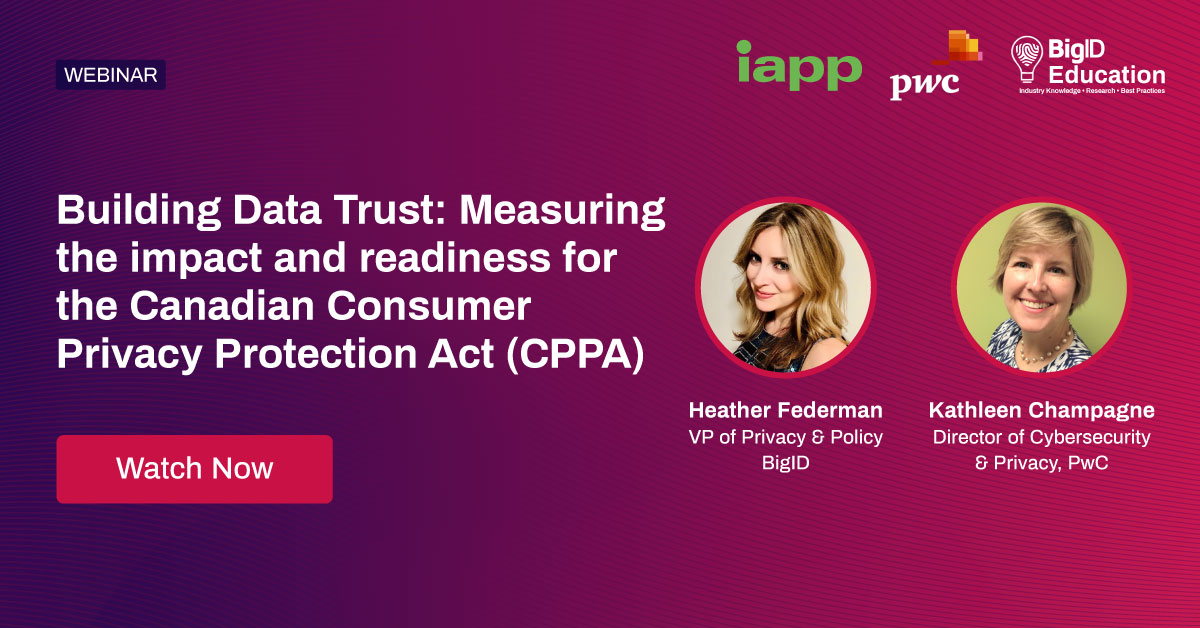 21% of Canadian businesses expect to spend $10 million or more to get ready for the CPPA and 37% expect to hire 10 full-time staff, according to a PwC Canada survey. Join Heather Federman (BigID) and Kathleen Champagne (PwC) to discuss how the proposed CPPA – or legislation like it – will impact Canadian businesses. We will also release key findings from the long-awaited PwC CPPA Impact and Readiness Survey conducted in March of 2021.
The proposed Canadian Consumer Privacy Protection Act (CPPA) brings new requirements and financial risks to organizations. CPPA readiness requires cross-functional involvement of privacy, security, IT, legal, and data governance experts to provide clear and consistent guidance to the lines of business they support, manage their data risks, and enable data trust. Based on the experience with GDPR, organizations that take a proactive approach to compliance while also building data trust can leverage CPPA to improve customer experience, unlock data value and drive innovative development.
This webinar will cover:
Material changes in CPPA as compared to existing Canadian privacy laws like PIPEDA.
Key results from the "PwC 2021 CPPA Impact and Readiness Survey."
How to adopt a "data trust" and data-first strategy within your organization when planning for CPPA readiness.